Swipe Your Way to Success
The EAB Navigate mobile app is UNT's new student success system! Download this free app to stay on top of your schedule with personalized to-dos and campus event reminders and access to your class schedule. Get acquainted with campus using the Resources search, connect to classmates in study groups, and gain insight from your peers on how to succeed at UNT, all from your phone, tablet or computer.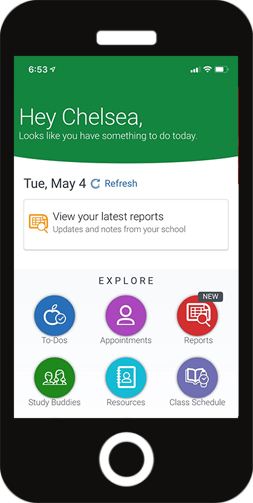 Schedule an Appointment
Set appointments with the people who will help you meet your academic goals, like advisors, tutors and career coaches.
My Major
Unsure about your major? Take our major explorer and find potential matches that fit your interests.
Study Buddies
Start a study group or join a peer's to get the academic edge in your most challenging classes.
To-Dos and Events
Manage your schedule from your palm with customized reminders about deadlines, events, and more!
Resources
Check out campus departments and programs categorized for your convenience. Contact info, locations, and details about UNT services are available at your fingertips.
Class Schedule
Locate your classes and check your schedule with ease.
Engage with the Campus Community
Receive tips from peers, learn about UNT's history and accomplishments, answer polls about your student experience and more!